| 4JET Technologies 4JET at Tire Expo – Sneak Preview to our Show Highlights
The next TTX is only weeks away and we get ready for an innovation firework. Make sure to book your appointment for a visit to our booth 5014 and learn the latest on how we harness light to make tire production more sustainable, more efficient and more flexible.
New Product Launch – Laser Uniformity Correction
The rumours are true – we will officially launch our all new LUC uniformity correction system!
LUC enables digital, precise and non-contact reworking of tire beads to improve uniformity. In the process, material is removed from the bead seat by precise laser machining. The new process optimizes tire performance and replaces mechanical reworking with grinding processes. Tire makers can save huge on rework, downgrades and scrap with our all digital, touchless correction process.
Faster than Ever Innerliner Cleaning
No matter if seal-, silent- or RFID enhanced tires – perfectly prepared innerliner surfaces are a must and laser cleaning is becoming the standard process to remove oily residues prior adhesive bonding. We went through a steep learning curve and now offer incredibly productive solutions that match the cycle time of conventional washers with just a fraction of the energy consumption and factory footprint.
Marking Madness with T-Mark
It is standard to engrave logos, QR codes and serial numbers using our T-Mark laser tire marking systems. But more and more tire factories are eliminating the use of mold slugs and converting to engrave all variables by laser systems – whether it is DOT date codes, speed codes or OE symbols: laser marking is the versatile answer to driving automation of the curing room, reducing working capital, enabling traceability and pushing efficiency.
High Contrast Sidewall Cleaning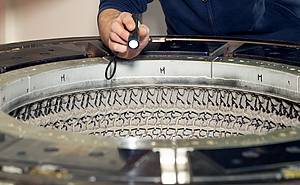 Superblack sidewalls are en vogue in the industry. The fine sidewall patterns of the molds are vulnerable to blast cleaning (and the cost of dryice is through the roof!). Time to switch to laser mold cleaning: Our STMCS workhorses are available to get rid of blasting processes and provide touchless precision cleaning not only of sidewalls but the entire tread pattern.
Tire Rapid Prototyping by JENScan
Seeing is believing: when we showed the latest example of an all laser-carved tire tread to customers they would not believe us at first. Precise, sharp egded and looking "as cured" prototype tires can be created using the JenScan laser system. Tire makers use laser prototyping to reduce time to market and automate an old craft that is harder to keep up, with a shrinking workforce of skilled carvers. Come and see yourself.
Last but not Least – Sushi is Back!

After 3 years of pandemic interruption we are more than happy to bring Sushi back to TTX! Join us on XXX at XXX to meet again, network and have fun.
Back