JETLASER – Manual and Mobile Laser Cleaning System
Surface Cleaning at the speed of light
Contact-free laser cleaning is a superior alternative to many conventional cleaning technologies in industrial manufacturing and maintenance. Laser cleaning is non-abrasive to the surface, environmentally friendly and works at almost neglectable consumable cost. For industrial cleaning tasks requiring high flexibility or the use of portable systems, we developed the JETLASER series of flexible, handheld laser cleaning systems.
Laser cleaning has many advantages
Contact-free
no damage to substrates
better product appearance of molded goods
improved tool life
Dry Process
less consumables
less waste
less operating cost
Flexibility
removes almost any organic material
allows to bring the solution to your problem
Some of the key applications for handheld laser cleaning include
Mold cleaning in rubber and injection molding, composite manufacturing and food industry
Removal of oil and grease
Oxide / Rust removal in maintenance operations
Pre-weld and post-weld seam cleaning
KTL paint removal
… and many others
Laser Cleaning Made Easy – Touch and Go
The portable systems only require an electric power supply for operation. Operators can be trained within 1 day in our training center in Germany, onsite or remotely.
The cleaning laser beam is emitted from an ergonomically designed handheld end effector that allows CE compliant two-hand usage. The sleek and lightweight design provides for a comfortable operation over hours.
Cleaning parameters are selected within seconds using intuitive sliders on the touch panel interface: operators can choose the laser spot fluence, the overlap of laser pulses and adjust the length of the cleaning line that is projected on the surface. Recipes can be stored with one click.
Not a Toy – Modularity for Industrial Laser Cleaning Tasks
Our system was designed based on our two decades of experience in creating industrial laser systems for some of the most demanding industries worldwide:
ergonomically designed JETLASER end effector (awarded with the 2018 Good Design Award)
rugged steel trolley for the laser source, operator interface and controls
robotic grade flexible fibre cable
brand name German and US components
a true CE design according to machinery directive EC2006/42/EG
VPN remote access for 24/7 online support
DIY maintenance – no need to pay for onsite service or preventive maintenance
Laser radiation of infrared fibre lasers can cause serious and lasting damage to the human eye – so a handheld laser is not a toy. But simple precautions and our inherent safety design make this a safe solution that meets the requirements of globally active customers and their safety organizations.
JETLASER is a Class 4 laser system, requiring:
Personal protection (laser safety eyewear)
Safety curtains to block operating area from unprotected bypassers
Laser safety officer (1 day training)
JETLASER offers superior laser safety:
CE marking based on an in-depth risk analysis following Machinery Directive EC2006/42/EG.
Components with safety performance level D, including Safety PLC instead of custom control board
Interface for connection of external safety devices (E-Stop, interlock and laser warning light)

DIY Maintenance Capability
The JETLASER tool requires only little maintenance which customers can perform themselves. In case of breakdowns we support by 24/7 VPN remote access or our regional service teams in Europe, Asia and North America.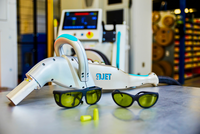 The initial cost of a mobile laser cleaning machine that can be used to remove rust or other coatings is between 40,000 and 500,000 euros. The operating cost for the handheld laser system is only about 50 cents per hour. The wide range of purchase costs can be explained by the wide variety of applications for our JETLASER, which are directly related to the laser power required. If you would like to receive a detailed offer, please feel free to tell us your application. Our experts will contact you and propose a suitable system for your individual application. Feel free to send us your samples and we will test the JETLASER directly on your substrates.
---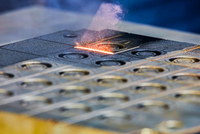 Laser cleaning enables the removal of rust, grease, paint, and other coatings using tens of thousands of short light pulses per second. Each pulse typically illuminates a few millimeter area on the surface. In the illuminated area, the energy applied causes the coating to be abruptly heated locally and either vaporized (known as sublimation) or flaked off in a shock - the coating is transformed into vapor and dust and can be extracted without touching or even damaging the substrate. This makes laser cleaning a very clean process that is gentle on the material.
---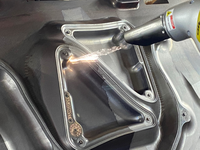 The JETLASER System is a top hat system which does not affect the surface of the substrate during cleaning operation. You can even touch the surface directly after the cleaning process and it won't be heat.
We call it a "touchless" and "cold" process.
---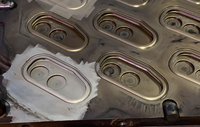 Our mobile laser cleaning machine can replace dry ice cleaning in many applications. A good example is mold cleaning. The laser cleans without contact and without damaging the material. This increases the quality of the mold and the end product.
---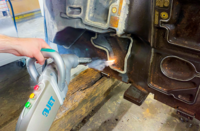 Compared to dry ice or sand blasting, laser cleaning shows some big advantages:
You have no consumable apart from energy
Process residues are minimal compared to the other technologies
Operation costs are less than 1€/hour
Cleaning is touchless whereas there is no damage to the substrate surface
---
The effective line width for laser cleaning is between 10 and 60mm and depends on the optical setup, which can be adjusted by you or your employees.
---
Yes, in general, the laser is able to remove paint, rust and oil. The cleaning rate depends on the thickness of the layer to be removed and the shape of the substrate.
---
Yes, the JETLASER can clean optical shiny surfaces. If you have a test sample, we will be happy to process it for you and show you the result. Just contact us via our contact sheet below and our experts will get back to you.
---
In general, it is possible. But laser safety precautions, such as an enclosed area, have to be taken into consideration. We offer laser safety goggles and laser safety curtains for more flexibility in your operation area. We also offer suitable respirators and extractors.
---
The JETLASER is a laser class 4 system. A laser safe area is needed for a safe operation. We offer laser safety goggles and laser safety curtains for more flexibility in your operation area. We also offer suitable respirators and extractors.
---
There are some unique plastic combinations which the laser may be able to clean. We did a few tests in our laboratory for proving this. If you want us to test your samples you can contact us and send us your substrates.
---
The level of roughness is dependent on the JETLASER model and the laser setting. There are laser settings, which are suited for preparation for painting.
---
The specific application will have to be tested in 4JET laboratories. We have seen good results with different types of wood and paint, but it always depends on the specific application.
---
Yes, training is needed. Standard duration for this is one day.
---
Yes. The working distance can be adapted by quick and easy change of the lens.
---
The delivery time is about 12 weeks after down payment.
---
4JET offers a recommended spare and wear parts package. This includes:
Wear parts:
Spare filter mats
Filter elements for the chiller
Water treatment kit for chiller
Cleaning kit for optical components
Spare parts:
Lenses
Mirror
Galvo smart deflecto
---
The JETLASER can be mounted on each 6-axis robot. For an automated process, it has to be evaluated if a SCANYWHERE System can be the better solution. Please contact us and our experts will help you to find the best solution for your application.
---
4JET offers laser cleaning as a service in our JobShop in the South of Germany. Some of our agents, which have purchased JETLASER Systems, may provide cleaning service to customers.
---
4JET JETLASER Technology International Property Right
As the market leader for laser-based machine tools, we regularly spend a double-digit percentage of our turnover on further development. To protect these investments, we maintain a portfolio of international industrial property rights for our systems, processes used and/or products manufactured with our processes. The most important of these intellectual property rights is the following:
DE202017103770
Contact
We look forward to your questions – our experts are at your disposal.