| Photovoltaic & Glass, 4JET Technologies New Process Validation for Edge Deletion
QVS Station for full area isolation test
4JET GmbH (Alsdorf / Germany) introduces a new product for use in the backend of thinfilm photovoltaics production.
The QVS tool by 4JET allows a full area isolation measurement of the edge deletion zone. Measurement is performed over the entire exposed surface with high voltage.
The system identifies conductive residues also on the uncoated backside and the seam of the substrates. Due to the sequential measurements of different locations on the substrate the tool helps to identify systematic problems in upstream processes.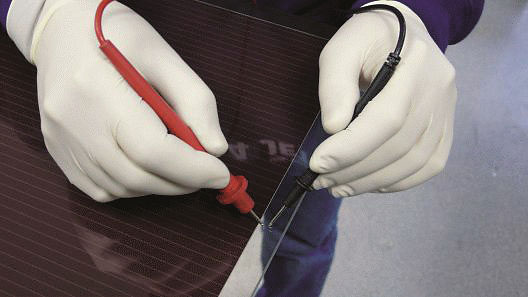 The compact tool can be upgraded with additional test processes and be used stand-alone or in an inline configuration in the factory backend. The testing strategy is suitable for a-Si, µc-Si, CIGS and CdTe solar panels. Measurement thresholds for "pass" and "no pass" can be programmed individually. The software allows to log and report data to a MES system.
The new product further adds to 4JET´s portfolio for the back end of modern thinfilm PV manufacturing sites. The company also supplies laser systems for edge deletion, mechanical seam brushing, MEX systems for bus bar exposure on CIGS panels and laser modules for glass drilling.
Glass handling in the new product is again provided by Maschinenbau GEROLD GmbH (Nettetal), which is partner of 4JET in numerous projects for leading PV manufacturers.
Back