| 4JET Technologies, Trade Shows, Laser Tire Marking, Tire Innerliner Laser Cleaning, Laser Mold Cleaning 4JET returns to Tire Expo with a Bundle of Innovations
Sneak preview of TIRE Technology Expo 2022:
The latest in laser applications for mold cleaning, innerliner cleaning, tire marking and more
Laser surface processing has long left the "ivory tower" and is used in hundreds of tire plants worldwide for mold- and innerliner cleaning, marking and engraving as well as prototyping. After the long Covid break we are happy to finally return to Hannover and update the industry on the latest developments in our product line up.
No matter if preparing for sealant materials, silencing foams or RFID attach – perfectly clean innerliners are needed for a reliable bond. Our TCS laser systems for innerliner cleaning have become industry standard with already several dozens of machines in operation. We are now offering Advanced and Performance Versions for improved output.
High-contrast sidewalls, exploding cost for dry-ice, fragile spring vents and more … there are many reasons to convert to laser mold cleaning and replace ice blasting or plastic media cleaning. Our STMCS laser system is the workhorse for offline mold cleaning and with our JETLASER mobile system we now offer a complimentary solution for quick touch-up cleaning or spot cleaning in the mold shop.
More than 500 million tires have already been marked on the fleet of 4JET T-Mark systems around the globe and the first volume tire plants have reached 100% laser marking of tires. DOT date codes, QR codes, logos, serial numbers and other variable info is engraved without slug change, fully automated and with process metrology. We keep firing away with new software functionalities, supporting technology such as smartphone apps or reading devices and our machines are becoming a standard tool in tracking and tracing of tires.
The JENscan® Tire laser cells distributed by 4JET enable to create individual tread profiles and sidewall designs in cured tires. The process replaces the time-consuming manual carving of tire prototypes, which is still common today, and thus shortens development cycles and cost in tire development.
As we wait to see how well the tire community returns to onsite meetings and tradeshows we have decided to skip our traditional Sushi Eve this year. But you can make sure Sushi returns in 2023 by visiting our booth and leaving your business card: if we have more than 150 new cards by the end of the show Sushi will be back on next year – we promise!
Visit us at our stand and learn more about laser cleaning from our experts in person. We look forward to meeting you!
---
TIRE TECHNOLOGY EXPO
May 18 – 20, 2022
Hannover, Germany
Hall 20, Booth-No. 5010
To get your free visitor pass online, please register here!

Show hours:
Wednesday, May 18, 10 am – 5 pm
Thursday, May 19, 10 am – 5 pm
Friday, May 20, 10 am – 3 pm
If you wish a designated appointment to meet one of our sales consultants, please contact us by e-mail.
---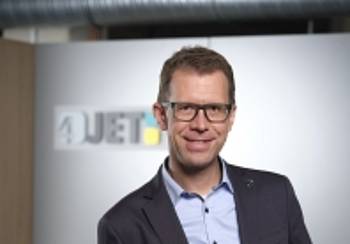 4JET Conference Paper:
Friday, May 20, 11:45 – 12:05 am,
Florian Schreiber, Vice President Sales:
Laser processing in the tire industry – an application overview
Back